Top Beach Party Destinations in the US
America is known for many things, but something that young people associate the US the most are Beach parties. This is one of the most favorite past times when it comes to young people, students, high schoolers and other people who feel young at heart. Whether you are on the West or the East coast, you have an equal amount of a chance to have lots of fun. Here are top beach party destinations that you should go to if you are in the US.
Ocean Beach, San Diego, California
Ocean Beach in San Diego, California is a perfect place to let loose. Whether you want to go surfing or just want to relax and have some fun in the sun, this place has everything for you. During the day, the city is filled with locals and backpackers coming from every part of the country. But it is during the night when the magic starts. The options are limitless as there are numerous bars and clubs allowing you to get all the merits of the local nightlife.
South Beach, Miami, Florida
Miami is the target place for most spring breakers. During the year, a lot of people flock here to enjoy many possibilities that the place has to offer, and that is a lot. South Beach in Miami, Florida boasts the best swimwear and the best beaches. The nightclubs are amazing, but the price is as well. Big spenders are usually the ones that come here.
Mamby on the Beach, Chicago, Illinois
If you are a fan of good music and fabulous atmosphere, than Mamby on the Beach is the right place for you. It is an annual music festival that takes place in Chicago. It is an event which is still expanding but has grown exponentially in the last three years. The festival has started to attract big names and you can expect to see all of your favorite artists here. Young and hip people are usually the ones who visit and perhaps you can be the next one to join in.

Atlantic City, New Jersey
Many people call Atlantic City as "seaside Vegas." And they are not far from the truth. Atlantic City has long been associated with casinos, strip clubs, music venues, and beach bars. It is one of the most fun places that you can visit when you are young. The nightlife is amazing and the party never stops.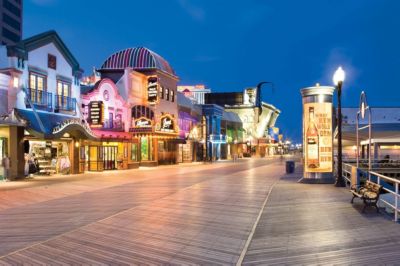 Serenity Point, Topsail Beach, North Carolina
Topsail Beach already has a long reputation among holidaymakers in the US. The beach is regularly flocked by tanned, hot and young bodies and people do not only come here to have fun in the sun. This place boasts with a lot of places that provide top-notch eating and drinking on the oceanside. Not a lot of places do have that. And when it gets dark you can hit the dance clubs or spend some time on a casual beach as many people do.
Redondo Beach Pier, Redondo Beach, California
Redondo Beach is infamous for its rowdy nightlife. There are no days off here, every day is a party. If you walk down the pier you will hear music from everywhere and people coming from all sides. Besides great nightclubs, there are even better restaurants and it provides great food to boot.
Wildwood Beach, Wildwood, New Jersey
Yet another New Jersey destination, Wildwood beach is filled with amusement parks and shiny places. And everything is right beside the beach. Everything is so colorful and picturesque here. The colorfulness of the place is also seen in the people, as there are people from different cultures gathering here. Once the night comes everybody is down to have a good time.
Isla Blanca Beach, South Padre Island, Texas
The Isla Blanca Beach is mainly associated with spring breakers. You can see college students flocking the streets from March to April. The place has a lot to offer, from nightclubs to great beach parties and fabulous places to eat. During the year, this place plays hosts to many festivals which keeps the streets filled with people and newcomers alike.
Venice Municipal Beach, Venice, Florida
Many of you will confuse this place with Venice Beach in California. But the truth of the matter is that Venice Municipal Beach in Florida has everything that Venice Beach has without all the backdrop. There are far fewer tourists here and a lesser crowd which gives you all the room in the world to really have fun. It also has countless places where you can go to relax or some other ones where you can let loose.
Oak Island Beach, Oak Island, North Carolina
This is probably one of the most welcoming towns in the country. It has clean beaches, numerous access points to them and pristine water. What is great is that eating and drinking is allowed on the beach. There are also many parks in the area so it has something for everybody. Probably one of the most wholesome places to visit.